Aspect Distressed Metal Installation Guide
Tools and supplies needed:
Protective eyewear or safety goggles
Measuring tape
Straightedge or Speed Square®
Leather work gloves
Pencil
Large (full-sized) tin snips
Smooth head hammer
File
Soft cloth
Level (2′ to 4′)
Caulk gun and adhesive (if using method 2)
Latex Primer such as Zinsser® or KILZ® (or similar products) and paint roller or brush (if using method 1)
Before you begin
Installing Aspect peel & stick distressed metal tiles is a simple, exciting project that adds instant style to your kitchen or bath. We have deliberately over-explained the tile installation. Have fun with this project . It's going to be easy and look great!
Read this installation manual in it's entirety before you start.If you have doubts about doing this installation, you should contact a qualified contractor, carpenter or professional installer.
PROPER SURFACE PREPARATION IS ESSENTIAL FOR A SUCCESSFUL PROJECT
Due to manufacturing variations, we cannot guarantee an exact color match from lot to lot. Prior to installing Aspect distressed metal tiles to your wall, please unpackage & lay out all purchased product to ensure color consistency. If you encounter unreasonable color variation, please give us a call at 1-800-434-3750 (7am-4:30pm CST, M-F) so that we may assist you with your project.
Failure to follow recommended surface preparation instructions may void the warranty. ACP, LLC, is not responsible or liable for any labor costs or damaged product incurred as a result of improper installation. All product defects are covered under our 5-year limited warranty.
Installation Methods
Method 1:
The adhesive on the back side of the Aspect distressed metal tiles is engineered to stick to flat, primed, smooth walls.
Allow the tiles and substrate to come to room temperature (65°F to 100°F) before installation.
If you are using installation Method 1, proper wall preparation is required. Aspect can be installed over most structurally sound substrates if they are clean, flat, smooth, dry, and free of dust, wax, soap scum and grease. Acceptable substrates are drywall, plaster or clean, smooth tile (glazed, porcelain type tile; not porous or textured). Any damaged, loose or uneven areas must be repaired, patched, leveled and primed.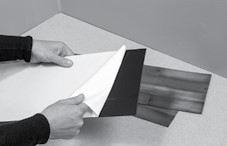 Method 2:
If you do not intend to prepare, sand and prime the surface, an additional adhesive should be used. We recommend a high-quality polyurethane construction adhesive be applied to the back of each tile in these cases.
Be sure to remove the release film on the back of each tile before applying additional adhesive. Apply some pea-sized dots of adhesive to the back of a full tile (see right). Keep the adhesive a half-inch from the edges.
Firmly press the tiles into place. If adhesive squeezes out around the tiles, be sure to wipe it off before it dries.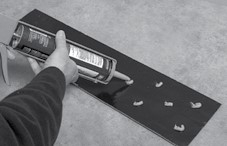 Brand
Type
Loctite®

Loctite®

LePage®
PL Premium®

PL Premium Advanced®

PL Premium®
Layout:
Measure the first area to be covered by Aspect material. We recommend you lay out the entire project on a flat surface, like the counter top, a table or the floor, before adhering to the substrate, to be sure you have enough tiles and your design and layout is correct. This will also give you good reference as to how the tiles will look on your wall.
As each project is different, be sure to plan for cutouts, corners or edge treatments before applying tiles. Tile edge seams will be more visible if they are not aligned. When starting a new row, we recommend either a random staggered pattern or a subway pattern.
One popular layout method is to begin from the inside corner of your counter and work across left to right. This method allows you to use two points of reference, your vertical wall and horizontal counter top. Note – when using these two points of reference, be sure to check them for level on the horizontal plane and 90° on the vertical plane. This will prevent any problems as you build your backsplash.
Lay a 4-foot level on top of your countertop or backsplash return lip. If the countertop is level and straight, begin tile installation as described below. If your countertop is not level and straight, use this guide to get started.
Any tiles that are bent or misshapen during installation can be straightened with hand manipulation and/or a hammer. Tile segments should lay flat and not pull away from wall or adhesive backer. If this is not the case, please straighten and flatten tiles as needed.
Installation
Here's where the fun begins. Be sure the substrate is clean and dry. Remove the adhesive liner from the back of the matted tile.
As you begin to place the first tile, angle the top of the tile (or one side) away from the wall so the tile does not stick before you are ready. See images below. Do not apply pressure to the tile until you are sure of your placement. If alignment is true, apply pressure to the whole tile.
The aggressive design of the adhesive does not allow for repositioning after the tile has been pressed in place. If the tile is affixed but not aligned properly, see the Removing Tiles section, below.
CAUTION: Do not stand or walk on release paper or a tile with release paper on the back as it is extremely slippery. Place it in a wastebasket immediately upon removal from tile.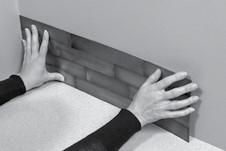 Place the first tile. Angle side or top of tile away from wall until you are sure of placement. Use the counter top as a guide as you move it into place.
Leave on the adhesive liner for measuring, drawing lines and cutting tiles. Measure and lay out on a tile where the cut must be made, then using the large tin snips, cut the tile. Prior to final application, take the cut tile (adhesive liner still on tile) to the work space and place it in its intended location, ensuring it fits properly.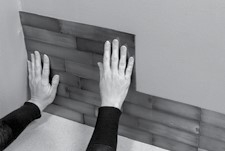 When placing tiles on the second row and beyond, angle the tile back about 30 degrees and rest the bottom edge on the tile below, then slide it over to abut the previous tile.
Carefully tip it up into place so it abuts the last tile, then carefully install the tile while making sure the bottom edge is fitting tightly against the lower tile.
Cutting tiles
If cutting tiles is necessary, a large tin snips is the recommended cutting tool. Cut edges of the metal tiles can be sharp, so be sure to protect yourself with leather work gloves.
Tin snips can slightly bend the edge of the metal tile when cutting, we recommend straightening the bends using a smooth-headed hammer.
Note: Some distressed metal finishes may be prone to chipping during the cutting process. To avoid this, use a utility knife to scribe the line to be cut; then make the cut with a snips.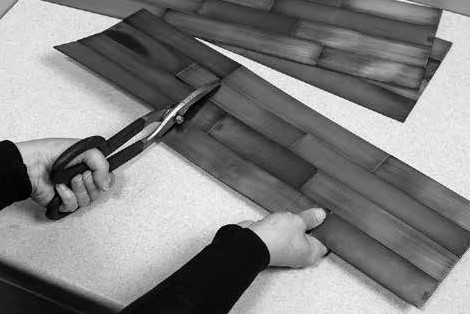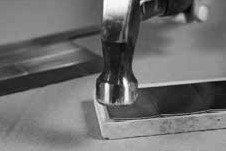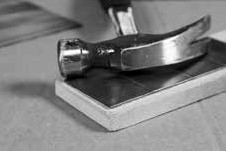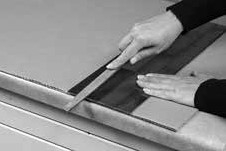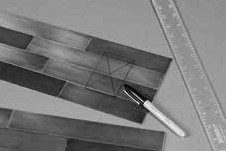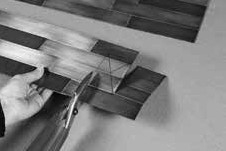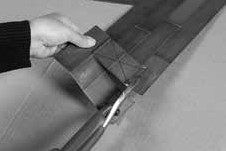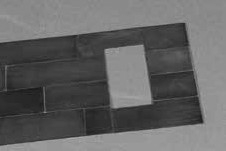 NOTE: Aspect Peel & Stick Distressed Metal Tiles are made from real metal. They are electrically conductive. Therefore, when working around any electrical outlet, be SURE to turn the power off at your fuse box before performing any work near an outlet.
Leave the adhesive backer on and "dry fit" the tile in the location of the outlet. If it fits to your satisfaction, carefully apply the next piece of tile. Then apply the remaining tile piece(s) as necessary.
For more intricate cuts, if necessary, we recommend using a Dremel® tool with a metal cutting wheel.
Leave on the adhesive liner for measuring, drawing lines and cutting tiles. Measure and layout on a tile where the cut must be made and cut the tile. Cut and install all remaining tiles using the same steps described above. When tiles are installed to your satisfaction, press each again firmly with your hand. This will ensure that the adhesive bonds to the substrate.
Tips and Techniques
Adhering small pieces
Use tube adhesive for small cut pieces of Aspect distressed metal that are less than 4 inches by 4 inches.
Removing tiles
If a tile needs to be removed, apply heat with a hair dryer to soften the adhesive. Use a putty knife on the back side and slowly apply outward pressure to release the tile from the wall. The adhesive is engineered to not be removed so caution should be taken to not damage the wall. Any removed tiles may be unusable. ACP is not responsible or liable if you damage your walls. If the adhesive is destroyed but the tile face is fine, you can try using PL Premium® adhesive to reapply the tile.
Care After Installation
Aspect Distressed Metal tiles should be cleaned, if necessary, using a soft cloth, warm water and mild soap. Dry with a soft cloth.
Edge Treatment
Aspect Distressed Metal tiles are quite thin and edge treatment is generally not necessary. However, if you want to finish the exposed tile edge, a thin bead of color-matching or clear caulk works well. We also manufacture peel & stick trims for Aspect tiles as an option. Many other types of edge trims can be found at your local home center.